Feltons' Heating & Cooling – Specialists for all heat pump repairs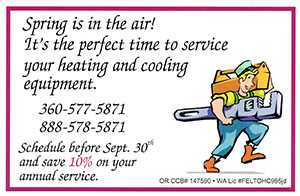 We Service All Brands of Heat Pumps
Heat pumps often act as great energy-saving alternative to conventional forced-air furnaces and air conditioners.
That's because they're able to move hot and cool air through without having to produce it. This means that they're far more efficient in terms of energy than conventional furnace and air conditioners. Despite the increase in efficiency achieved over conventional heating and cooling solutions however, heat pumps can suffer from specific technical issues that prevent them from working to optimal capacity.
Specialists from Feltons' Heating & Cooling can work to quickly resolve any of these issues:
Heat Pump Not Turning On

Heat pump failures are often caused by issues related to the thermostat or a tripped circuit breaker. The team at Feltons' Heating & Cooling has worked to resolve problems related to this issue many times before and can quickly have your home or business environment back to optimal temperature.

Heat Pump Not Heating or Cooling

Oftentimes home and business owners will discover a problem within the heat pump's blower system that will require expert technical ability to resolve. Whether it's an issue related to the reversing valve or the balance of the overall system, the technical staff at Feltons' Heating & Cooling can offer the requisite expertise to resolve the problem.

Heat Pump Making Excessive Noise

When a heat pump begins to make excessive noise, it's primarily due to worn motor bearings within the unit and probably means that these bearings require replacement as soon as possible. For those home and business owners experiencing this type of problem, contact the team at Feltons' Heating & Cooling to arrange an appointment. The company offers a 24-hour emergency service for those with urgent repair needs.
Feltons' Heating & Cooling are the local Longview area organization helping clients to resolve your most urgent HVAC repair needs. Certified, trusted and experienced, the company's in-house team is ready to respond to any challenge.
Call today to repair your heat pump: 360-577-5871