Feltons' Heating & Cooling – Fast Response AC Repair for All Makes and Models
Outside air conditioning units must be maintained throughout the year in order to perform optimally. Home and business owners might notice the follow issues with their current systems:
Excessive Noises Coming from Unit

Frozen AC Coils

Blocked Ventilation Grills

Water Leaks

Limited Air from Unit
For those home and business owners with outdoor units that are experiencing any of the preceding issues, it's imperative to follow several simple maintenance steps before calling qualified experts such as those at Feltons' Heating & Cooling.
Simple maintenance steps include the following:
(Remember to shut off power to the unit before following these steps)
Remove leaves and other debris from area

Check the copper pipe connected to the unit. If it's hot, the coils might require washing.


Hose down the fins and coils inside of the unit

Clean and replace filters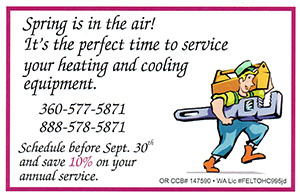 If, after following the preceding steps there are still issues with the unit, then it's imperative that clients contact the specialists at Felton Heating & Cooling immediately for a unit inspection. The company operates 24/7 for those with emergency needs and offers regular appointments from Monday to Friday for those with less urgent maintenance needs.
Improving home and business comfort is the number one priority at Feltons' Heating and Cooling. A complete and effective response to even the most complex of air conditioning issue is assured when working with the company's in-house professionals.