Enjoy Optimal Comfort and Energy Savings with Our Expert Furnace Maintenance Service
We don't tie you into a contract to save on maintenance costs. Our maintenance service is competitively priced, without the need for a contract!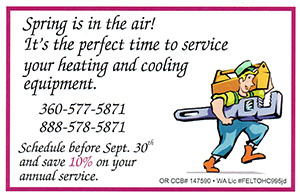 Feltons' Heating & Cooling – Expertly Delivered Furnace Repair Solutions
To optimize the performance and lifespan of your system, get the furnace maintenance experts at Feltons' Heating and Cooling Inc. to service it every season. Wide-ranging experience with all major brands including RUUD, Lennox and Trane enables us to provide the exact tweaks and fixes your furnace requires. Our skilled professionals will take of issues before they turn into major repair or replacement expenses. Since we are committed to making you a lifelong customer, you can always rely on us to do what's best for you.
Benefits of Regular Furnace Maintenance
It increases HVAC performance
Avoids costly repairs
Prevents sudden shutdowns and expensive emergency calls
Lowers the risk of early replacements
Keeps your furnace running at peak capacity
Delivers the energy savings your system was designed for
Schedule preventative furnace maintenance before the cold weather arrives. This will help identify existing issues and ensure your system is up to any challenge that winter might throw your way. Our technicians will ensure that you stay warm and comfortable no matter how extreme the weather may be.
Ensure Your Furnace Maintenance Technician is Licensed
Furnace maintenance is a highly specialized and dangerous job. Never attempt to do it yourself and don't allow an inexperienced person to service your system. In addition to causing safety issues, you also run the risk of damaging your furnace or possibly your home.
Feltons' technicians are trained and experienced. We would never compromise your safety or that of our staff. A maintenance expert will do a thorough inspection and cleaning to ensure all parts are in good working condition. We run several diagnostic checks to verify your system is delivering the performance it was designed for. Once we are done, you will enjoy peace of mind knowing you won't be left out in the cold.
Call 360-577-5871 for expert furnace maintenance service.
Feltons' heating and cooling specialists serve Longview, Cathlamet, Rainier, Saint Helens, Scappoose, and surrounding areas.
Save On Repairs with a Furnace Maintenance Contract from Feltons'
Feltons' Heating and Cooling Inc. has a reputation for providing exceptional service to all our residential and commercial customers. Our expertise with HVAC systems of any age enables us to quickly diagnose and solve any problems with your furnace, air conditioner or heat pump.
To help you avoid sudden shutdowns and expensive repairs, we offer an annual maintenance package. As part of this contract, one of our furnace maintenance experts will provide seasonal tune ups, and detailed attention to the unique needs of your system.
For over 30 years, Feltons' Heating and Cooling Inc. has provided exceptional installation, repair and maintenance services to homes and businesses from Longview, Washington to Scappoose, Oregon. You can count on us to ensure your furnace is at its peak performance.
Phone 360-577-5871 for a furnace maintenance contract from Feltons'.
We service and repair all makes and models.