Expert Ruud Furnace Repair from an Authorized Dealer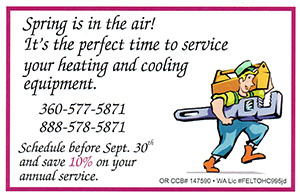 Skilled Ruud Furnace Repair by Factory-Trained Technicians
For skilled Ruud furnace repair, call the specialists at Feltons' Heating and Cooling. As an authorized Ruud Pro Partner dealer, our technicians have extensive factory training and years of experience with the brand. They will quickly diagnose the problem and offer the right solution to restore your furnace to proper working condition. Furnace repair is a highly specialized and dangerous job which requires knowledge, experience and the proper tools. Improper handling puts you and your family/employees at risk. It could cause permanent damage to your system and lead to the costly expense of premature equipment failure. Feltons' technicians specialize in diagnosis and repair of Ruud equipment. We have the knowledge and skill as well as access to OEM (factory) parts to ensure the job is done safely and correctly.
Is your pilot light out? Is the furnace making a loud noise, like a banging or gurgling sound? Do you feel that it is not producing enough heat or maybe none at all? The problem could be with your blower motor, the fan or even the thermostat. Feltons' Ruud furnace repair experts will tell you exactly what needs to be fixed and how we can do it. Neglect can worsen the problem which means more costly repairs. A malfunctioning furnace also drives up your energy bills in addition to causing safety or health issues. Turn off the furnace and call us right away. Feltons' Ruud furnace repair expert will come to your home or office and quickly solve your problem. Our aim is to provide you with long term solutions so that you can enjoy the seamless service your system was designed to provide. Call 360-577-5871 for our expert Ruud furnace repair service.

Feltons' heating and cooling specialists serve Longview, Kelso, Cathlamet, Rainier, Saint Helens, Scappoose, and surrounding areas.
For Correct Diagnosis and Ruud Furnace Repair, Call Feltons' Experts
Feltons' Heating and Cooling Inc. is a Ruud Pro Partner Contractor which means our technicians have been specially trained in the installation, repair and maintenance of Ruud systems. The latest Ruud furnaces employ sophisticated technology like direct spark ignition and a blocked drain sensor to deliver reliable performance. Correct diagnosis and repair requires intimate knowledge of how these systems work, as well as expert problem solving skills. Our manufacturer-training uniquely qualifies us to provide you with the seamless service you signed up to receive
The advantages of hiring our Ruud Furnace Repair service:
Quick and accurate diagnosis
Lasting solutions
Repair expertise
Trained technicians
Well stocked vans for quick turnaround
Affordable pricing
High rate of customer satisfaction
For over 30 years, Feltons' Heating and Cooling Inc. has provided outstanding installation and repair services to homes and business from Longview, Washington to Scappoose, Oregon. You can rely on us to provide you with the best solution, including letting you know when repair will not be a lasting solution. Our honest, hard work has earned us the respect and appreciation of our residential and commercial customers. For complete peace of mind, entrust your Ruud furnace repair to our expert technicians.
Phone 360-577-5871 for Feltons' expert Ruud furnace service.
We also repair other brands.