Feltons' Heating & Cooling – Expertly Delivered Furnace Repair Solutions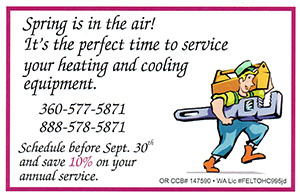 The team at Feltons' Heating & Cooling offers over 30 years of guidance in helping home and business owners to resolve their most urgent of furnace repair issues. The company offers repair solutions for each of the most popular manufacturer brands and can depended upon to complete the work on short-notice for long-term improvements in terms of heating functionality.
For those who believe they have an issue with their furnace, it is imperative not to put off the repair work. Any delay could not only be hazardous to the local building environment but also could cost thousands of dollars more to fix should the problem become larger.
Here are a few of the possible furnace issues users might face:
The Furnace is leaking gas

This is an issue that should be dealt with immediately. If the smell of gas is strong, turn off the gas supply valve using a wrench. Then call the local fire department. When there is a faint smell emanating from the furnace, turn off the supply immediately and call the team at Feltons' Heating & Cooling for an emergency repair. A trusted specialist will be with you shortly.

Furnace is not producing heat

This is a common problem, especially for those with older model furnaces that have become worn out over time and by an increase in use. There are many slight issues that could be responsible for the problem depending on the style of furnace. A professional from the Feltons' Heating & Cooling team will be delighted to diagnose and resolve the issue directly.

Furnace is cycling on and off too frequently

Sometimes a furnace will run through its cycle too quickly. If this is occurring, the problem is likely related to the thermostat, especially for those with a combustion furnace. If, after cleaning the filter the problem isn't resolve, the experts at Feltons' Heating & Cooling will review the problem to ensure a lasting solution.

With the experience and the in-house technical capacity to resolve even the most complex of furnace repair requirement, Feltons' Heating & Cooling is the local partner for residential and commercial repair solutions.
Contact the company's in-house repair team today to book your appointment.