Ruud: Efficient Budget Furnaces and High Efficiency Furnaces


Feltons' Heating & Cooling – Your Specialist for High Efficiency Heating Solutions
For commercial and residential clients searching for the best local selection of high efficiency furnaces, Feltons' Heating & Cooling is your ideal provider. The company offers several unique styles of Energy Star-certified furnaces designed to help their clients consolidate their home heating costs during the North American winter months.
The company offers a broad range of solutions through their role as a RUUD-authorized dealer and can, for example, offer clients access to the RUUD Classic® and Class® Plus product lines. These products feature an innovative system that reduces the amount of energy wasted when the system isn't in use and also offer electronic ignition, which eliminates the need for energy-consuming pilot lights.
Consider some example from the company's catalogue of furnaces below:
Ruud Ultra Series™ 90 Plus
This line of up-flow gas furnaces is designed to be utilized in utility rooms, closets and alcoves within property. With a CSA certified designed, this solution can used for many applications that traditionally call for a horizontal surface thanks to the product's low-profile 34" height.
A great advantage to the Ruud Ultra Series™ 90 Plus is that the Comfort Control System 2, which provides 28 on board diagnostic codes and history codes in the detection of system problems. These codes are then used to alert the homeowner of a problem with the unit.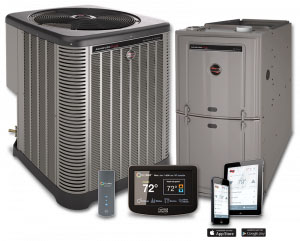 Ruud Achiever Series™ 95% AFUE
This style of furnace is the ideal product for the modern home user. The product offers a two-stage operation for maintaining optimal comfort and saving energy in the long-term. And because the modern consumer is searching for a furnace that will maintain its value for years to come, the Ruud Achiever Series™ 95% AFUE features a heat exchanger constructed from stainless steel for maximum corrosion resistance.
The Ruud Achiever Series™ 95% AFUE also supports a quiet local environment as it feature an insulated blower compartment, a slow opening gas valve, as well as a specially designed inducer system.
Providing clients with direct access to the industry's leading furnace models, Feltons' Heating & Cooling continues to be a noted expert within the industry.
To find a furnace for your precise home or business needs, contact the team at Feltons' Heating & Cooling today at 360-577-5871.