Trane Furnace Repair Expertly Handled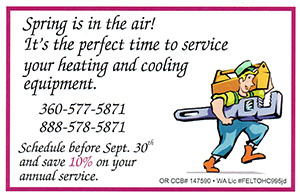 Feltons' Heating & Cooling – Expertly Delivered Furnace Repair Solutions
To get your Trane furnace repair done correctly, call the experts at Feltons' Heating and Cooling Inc. We have extensive experience with Trane furnaces and will quickly identify the cause of the malfunction as well as the solution. Our trained technicians are committed to doing a perfect job and will soon restore your system to optimal performance.Furnace repair for Trane or any other brand requires in-depth knowledge of the systems, safety codes and the right tools. We get every job done safely and efficiently, ensuring problem-free service for the lifespan of your heating or cooling system.
Are your heating bills unusually high? Do you find yourself turning up the thermostat all the time? Have you noticed that your furnace is not cutting off when it should? It could be a maintenance issue. Even the most sophisticated systems need to be checked and tuned from time to time.
Call Feltons' Heating. One of our Trane furnace repair experts will come over to see what's wrong. Whether it needs servicing or repair, you can always count on us to do what's best for your furnace.
Call 360-577-5871 for skilled Trane furnace repair.
Feltons' heating and cooling specialists serve Longview, Cathlamet, Rainier, Saint Helens, Scappoose, and surrounding areas.
For Cost-Effective Trane Furnace Repair, Call the Experts at Feltons'
Feltons' Heating and Cooling Inc. has a reputation for providing the most cost-effective solutions to our residential and commercial customers. Trane furnace repair or new installation; few companies can match the service quality we provide. What our customers value most is the dedication and efficiency with which we serve each of them. If repair is not the best solution, we will let you know right away. Should you need furnace replacement, we have a wide range of energy-efficient solutions for you to choose from. We'll ensure you have the right one and even set it up for you.
The advantages of hiring our Trane furnace repair service:
Correct diagnosis
Expert repair
Quick turnaround
Economical pricing
Affordable pricing
High customer satisfaction rate
For over 30 years, Feltons' Heating and Cooling Inc. has provided first-class installation and repair services to homes and business from Longview, Washington to Scappoose, Oregon. We are committed to providing you with the best possible customer experience. Our expert technicians respond quickly and efficiently to any situation. You can depend on us to provide you with the right Trane furnace repair solution.
We also have an emergency service to attend to immediate needs.
Phone 360-577-5871 for Feltons' cost-efficient Trane furnace repair service.