Seamless Lennox Furnace Repair by Trained and Experienced Technicians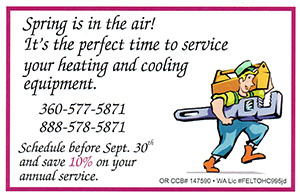 Feltons' Heating & Cooling – Expertly Delivered Lennox Furnace Repair Solutions
For expert Lennox furnace repair, call the professionals at Feltons' Heating and Cooling Inc. There are so many reasons that could cause a furnace to malfunction, even the most sophisticated ones like Lennox. Correct diagnosis is key to minimizing sudden shutdowns, frequent repairs and all those emergency calls. Our technicians are among the best in the industry. You can count on us to accurately diagnose the source of the problem and to do your Lennox furnace repair correctly.Are there strange sounds coming from your furnace? Have you noticed a funny odor? Do you feel the heat is not adequate? These are all signs that your Lennox furnace needs repair. Attend to it as soon as possible. Neglect can damage your system and also put your life and that of your family/employees at risk. Don't take that chance.
Call Feltons' and we will send one of our repair professionals to see what's wrong. You can count on our experts to provide you with the right solution and exceptional customer service.
Call 360-577-5871 for professional Lennox furnace repair.
Feltons' heating and cooling specialists serve Longview, Cathlamet, Rainier, Saint Helens, Scappoose, and surrounding areas.
To Avoid Safety Issues and High Energy Bills, Call Feltons' Lennox Furnace Repair Experts
In addition to being a safety risk, a malfunctioning furnace also uses more energy than necessary. Immediate attention from our Lennox furnace repair experts reduces your liabilities and energy bills.
The advantages of hiring our Lennox furnace repair service:
Expert diagnosis
Seamless repair
Trained and experienced technicians
Well stocked vans for quick turnaround
Affordable pricing
High customer satisfaction rat
At Feltons' Heating and Cooling Inc. we look out for your best interests and this translates to providing you with expert advice and service. We don't do any unnecessary work or temporary patch ups for you to call us back. For instance, a furnace that is more than ten years old and in need of constant repair is unreliable and expensive to maintain. Finding parts is also difficult. We will let you know when it is time for a change and can help you install a new energy-efficient system that will save you money.
For over 30 years, Feltons' Heating and Cooling Inc. has provided exemplary installation and repair services to homes and business from Longview, Washington to Scappoose, Oregon. You can count on us to provide the right Lennox furnace repair solution.
Phone 360-577-5871 for Feltons' skilled Lennox furnace repair service.
We also repair other brands.